Hello! My name is Farrah and I am the owner of FS Rabbitry. Thank you for visiting my Rabbitry online!
FS Rabbitry has been around since April 11th of 2006, residing in North Central Ohio. I strive to own and produce quality animals that are a good representation of their breed and are beneficial to keeping their breed going! Physical and mental health are just as important as quality here, a phenomenal animal should be able to be your companion for many years and also have a great temperament!
Here at FS Rabbitry we work with Netherland Dwarfs and will be adding Jersey Woolies very soon! We show mainly in Ohio and it's surrounding states, but do occasionally venture farther out! Previously, we used to raise Belgian Hares, Tans, a.
How it all got started! Everyone has one of those stories don't they! I purchased my first 4H "show" rabbit on April 11th of 2006, though I have had rabbits all throughout my life. My first rabbit in my rabbitry( with the intensions to raise and show), was my Sable marten dwarf River. River was a pet shop rabbit that was in dire need of rescuing. She was a scrawny, scabby little thing huddled in the corner away from all the bigger rabbits in the cage. I convinced my mother to buy her for me on my birthday(April 11th). I think it was a gift for River as well. Unfortunately River did not turn out to be show quality at all.(As pet shop rabbits go. I do not condone what I did back then, other than the fact that I have no doubt that she would have died there) River unfortunately passed away in Fall of 2010. She is greatly missed, and will forever be remembered as the goofy, loving founder of this all.
A month after we got River, we went down to the Ohio State Convention and purchased my first Belgian Hare and two more dwarfs. That was all it took, I fell in love with showing and all the wonderful people!
I had previous to the year of 2006 raised and shown Poultry for several years. I was a 4H member for 8+ years until last year(2010). I am now a member of the Livestock Committee and a Rabbit Advisor for my County fair!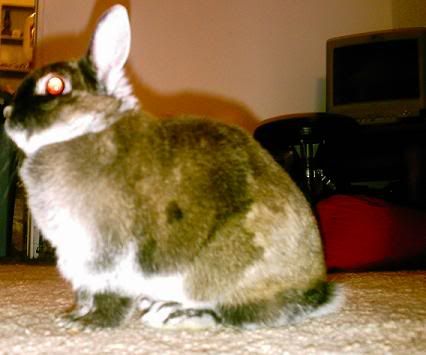 The one who started it all!